Cirencester Framing Shop
Picture Framers in Cirencester
Situated in Cirencester (aka 'the capital of the Cotswolds') with a prominent position in the centre of this busy market town is our retail framing shop. With hundreds of ready made frames all manufactured by ourselves and a huge choice of bespoke picture frames to choose from, we are often told how 'wonderful' our shop is.
Staffed by skilled picture framers, we offer help and advice on nearly all aspects of picture framing.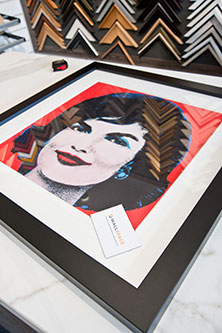 We also stock artwork by some of the UK's leading artists, all tastefully framed in our own wooden frames.
We've had our framing shop in Cirencester for over 25 years now (we were on Cirencester's market for at least 5 years before we opened the shop) and have thousands of repeat customers throughout the year. These days we often get younger people coming in the shop after their parents have told them 'go to Wall Space, they'll see you right' – it's great for us to see a new generation of people wanting artwork framed professionally.
All bespoke framing orders
are made in our framing factory in Cam and are brought back to Cirencester within 7-14 days, making us one of the quickest picture framers in the Cotswolds.
For more information pop along to our shop at the address below or give us a call.
Wall Space Picture Framers
11-13 West Market Place
Cirencester
Gloucestershire
GL7 2NH

Tel: 01285 657299


View Larger Map